Former professional Ice hockey player Nic Kerdiles died in a motorcycle crash in Nashville, Tennessee, on Sept. 23, 2023, He was 29 years old at the time of his death. He dies after being taken to the hospital.
Savannah Chrisley, ex-girlfriend of Nicolas Kerdiles mourns over the death. She split with Nic in 2020. She shared a video on Instagram an animated video of the former couple kissing to her Instagram story and she wrote, "I'm still hoping you respond to my text…"
Nic Kerdiles Former Ice Hockey Player Died At 29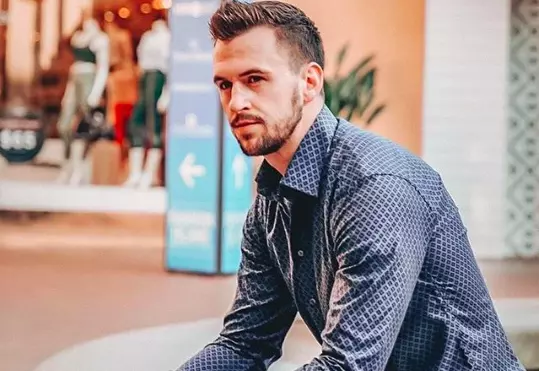 At the age of 29 former ice hockey player Nic Kerdiles. He was signed by the Anaheim Ducks in 2017 before he became a popular television personality when he appeared on "Chrisley Knows Best" with his girlfriend Savannah Chrisley, who later became his fiancee.
Savannah Chrisley's family tribute to the late Nicolas Kerdiles, and they said his death felt like losing a brother. She wrote on Instagram that she cannot bring the time back.
In 2020, Nic Kerdiles and Savannah Christley separated "Nic and I have been together for two and a half years. We're just trying to find our place in this world." as told to PEOPLE, their engagement is off. "There's no hatred between the two of us…and in all honesty…that makes saying goodbye even harder. We have nothing but love, respect, and admiration for one another but it's time for us to move forward individually," said Savannah Chrisley.
Savannah Chrisley Mourns Over Nicolas Kerdile's Death
Savannah Chrisley mourns over the death of her ex-boyfriend and shared his old photos on Instagram. The couple met in 2017 and they dated till 2020.
She posted several photos of her ex-fiancee and wrote today heaven gained the most beautiful angel. She further wrote I miss you and love you I'll forever save our last messages of I love you.
The news of the death was confirmed by the Anaheim Ducks which shared a tribute to Nic Kerdiles, on Saturday on X. (Formerly known as Twitter), "We're heartbroken to hear the news about Nic Kerdiles, who died in a motorcycle accident this morning," the team said in a statement. "An Irvine native, Nic became the first player from Orange County to play for the Ducks, in 2017. Our thoughts and deepest sympathies go out to his family and loved ones."
Nicolas Kerdile's last post on his Instagram story, shared late Friday night, was of someone riding a motorcycle, with the caption "Night rider."
Read More – Angus Cloud's Cause Of Death Revealed
Read More – Billy Miller's Mother Speaks About Her Son's Death