Alexandra Grant shares details of her love when she met Matrix actor Keanu Reeves. Keanu Reeves's girlfriend was established when she met the actor.
In an interview with PEOPLE, she talked about their relationship and how they fell in love at an adult age.
Alexandra Grant Shares Details Of Her Romance With Keanu Reeves
Alexandra opens up in an interview about her relationship journey with Keanu Reeves. She said falling in love as an adult she had built her own career by the time her relationship began.
She said to PEOPLE, " What I love about Keanu and our exchange is that we are pushing each other to build new roads. She further said "Seeing the other person's problem-solving is inspiring, like, 'Oh, well, okay, this one, that's a cul-de-sac. How do I try this other thing?'
She also said he is very inspiring, creative, and very kind, he is very hard-working. She also said as an artist her work changed when she met Keanu Reeves
Keanu Reeves is 59 years old dating Alexandra for 50 years.
How And When Keanu Reeves Met Alexandra Grant?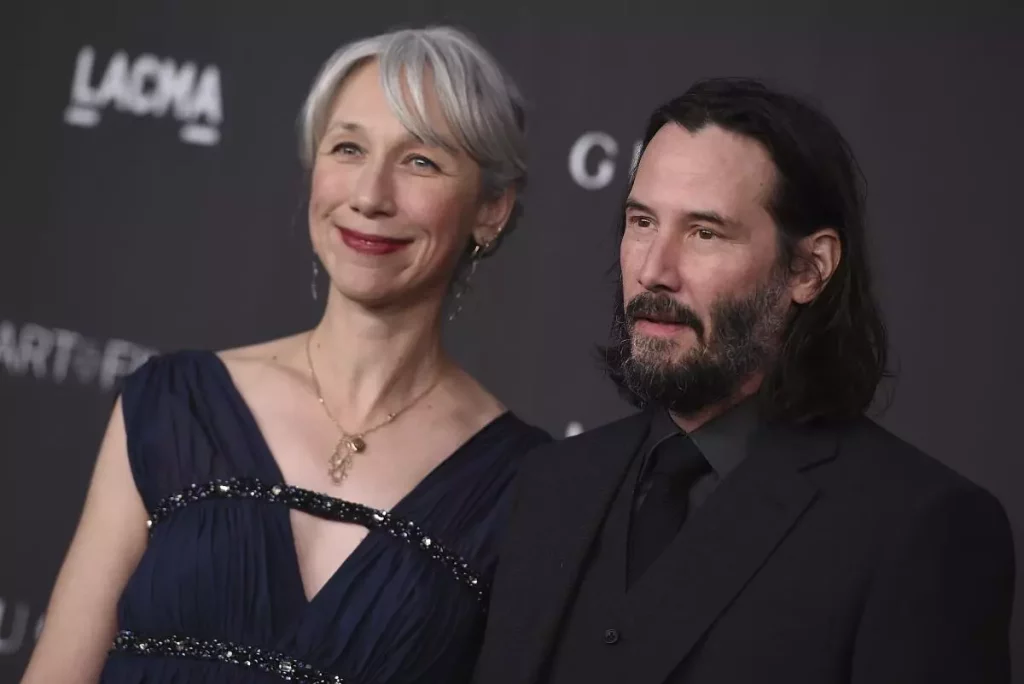 Reeves and Alexandra met in 2009 at a dinner party and they worked together on a project in 2011 as told to The New York Times Style Magazine.
In 2011 they published a book together, and Reeves wrote a book named Ode to Happiness and Alexandra Grant illustrated the book.
In an interview with British Vogue in 2020, Alexandra Grant recalls what she liked to work with Keanu Reeves, she further said her friends pushed them to publish a book together.
In an interview she said, "The book was made as a surprise, by me, for Keanu, as a private gift," she said that all her friends sat in a room and they giggled when I gave the book to Reeves, they said
'Please publish it!' So that's how we got into publishing."
In 2019, They Revealed Their Relationship In Public
In 2019, Keanu and Alexandra were seen in several public events together. They attended the MOCA Benefit in Los Angeles, and after a month they went to the Saint Laurent Men's SS20 show in Malibu, California. The couple was seen holding hands publicly at the LACMA Art + Film Gala in Los Angeles in November 2019.
The rumor began when they walked together at the Red Carpet, Rumors began that Reeves is dating Alexandra even though they never officially confirmed their relationship.
In 2020, Alexandra opened up about her relationship with Reeves. In an interview with British Vogue. She said, "I think every single person I knew called me in the first week of November, and that's fascinating," she said. "But the question I've been asking in all of this is: 'What is the opportunity for good?'"
She also shares her thoughts about marriage, when she is asked about marriage, she says "Love at every level is deeply important to my identity. How's that for dodging the question?" she continued. "I do not believe that isolation is the way. There is a period of isolation that I do as a painter, but I deeply value the experience of being in relationships."
Read More – Bruce Willis's Wife Emma Discloses How The Family Takes Care