Paul Walker a talented and well known actor from America,he was recognized best for his role in Fast and Furious series as Brian O'Conner. Famous television soap of 1990s The Young and the Restless in which he played as  child artist. He started his career as a child actor and got lots of praises recognition for his roles in teen comedy. He died at the age of forty.
Childhood
In Glendale, California Paul was born to Cheryl and Paul William Walker III on !2 September 1973.  His mother was a model and father was a boxer. His family background is German,Swiss ,Irish and mostly an English. He also has his younger brother and sister named Aimee, Ashlie, Caleb, and Cody. He was raised as a Mormon.Paul was graduated from Village Christian School in 1991 In Sunland a place close to Los Angeles, he spend his childhood here in that place. He also done major in marine Biology.
Early Career
Paul Walker started his career from television as a child actor and also got recognition for his roles and work. He appeared in many commercial ad also appear in commercial for Pamper at the age of 2. He appear in drama Highway to Heaven from 1984 to 1986.Until 1996 Paul continue to work in television. He appear on sitcom as Jeremy Beatty  and he continue on sitcom during 1990s.
Talking about his film career it was started in 1986 with a really low budget film  based on horror comedy Monster in the Closet. Later he  also work in The Retaliator which is science fiction film.Meet the Deedles in 1998 was the movie in which he secured his first feature film role but the movie was unsuccessful but the movie help him securing a roles although supporting roles in films.
The movie which was the most successful movies which everyone know was The Fast and The Furious in which Paul Walker got a chance to star opposite Vin Diesel , this movie prove to be a turning point in Paul's career. Paul also got MTV Movie Award for his performance. After the Fast and The Furious he got many big roles as well leading roles also. He starred in thriller Joy Ride and also appear in the second installment of The Fast and The furious which is 2 Fast 2 Furious, He also appear in Timeline in 2003 and Into the Blue in 2005
How did Paul Walker Die ?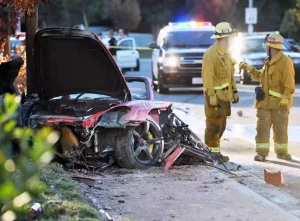 In 2013 Paul Walker died in car accident. On 30.11.13 Paula and Roger Rodas left for Walker's charity Reach Out Worldwide for victims of typhoon Haivan. They were driving Rodes Porsche Carrera GT 2005 model and their car crashed into a concrete lamp post and their car catches fire and both of them died on the spot even their body burned so badly that you can not recognize them, accident happens near Santa Clarita California.
Paul Walker was buried at the Forest Lawn Hollywood Hills. He left behind Fast and Furious seventh installment Furious 7 in the middle.at that time people and fans were posted tribute to Paul Walker on the social media. In 2018 a  documentary on his life was released giving tribute to his life named I Am Paul Walker.
Paul Walker Movies
Monster in the Closet released in 1986
Programmed to Kill released in 1986 were he played the role of Jason.
Tummy and the T-Rex released in 1994 he played Michael Brock
In 1998 He played as Phil Deedle in Meet the Deedles and also Pleasantville as Skip Martin
In 1999 movie Varsity Blues,  She's All That and Brokedown Palace
The Skull released in 2000
In 2001 The Fast and the  Furious where he portray Brian O'Conner and also Joy Ride
Life Makes Sense If You are Famous in 2002
The Turbo Charged Prelude for 2 Fast 2 Furious and 2 Fast 2 Furious in 2003 and also Timeline
In 2004 worked in  Neol
In 2005 Into the Blue
In 2006 worked in Eight Below, Running Scared,Flags of Our Fathers
n 2007 The Death and Life of Bobby Z and Stories USA
In 2008 The Lazarus Project
In 2009   Fast & Furious
In 2010  Takers
In 2011 Fast Five
In 2013 Vehicle 19 and Fast & Furious 6 Pawn Shop Chronicles and Hours
In 2014 Brick Mansions
In 2015 Furious 7
Furious 7 is the last movie i which he appeared.