The 11th President of India APJ Abdul Kalam who was a well known aerospace scientist. Abdul Kalam was born in Tamil Nadu in a very small town known as  Rameswaram. His full name is Avul Pakir Jainulabdeen Abdul Kalam most comma=only known as APJ Abdul Kalam.
He completed his schooling from his town Rameswaram and graduated  from the Madras Institute of Technology in 1960,later studied physics and aerospace engineering. He worked in Defense Research and Development Organisation (DRDO) and Indian Space Research Organisation (ISRO).
APJ Abdul Kalam was become famous as the Missile man of India because he worked for the development and involve in the India's civilian space programme. He also played a very vital role in the India's nuclear test in Pokhran ii in 1988.
In the year 2002 Abdul Kalam was elected the President of India. BJP and Congress both the party supported. He was given m,any prestigious awards including the Bharat Ratna which is the most honorable award of India.
Sudden Death of APJ Abdul Kalam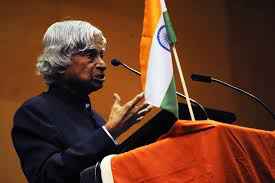 In the year 2005 on 27 July  the greatest scientist and a gem which India has was gone. This was the last day of Abdul Kalam.
APJ Abdul Kalam was traveled to Shillong to deliver a lecture on "Creating a Livable Planet Earth" in the Indian institute of Management Shillong.    Dr Manmohan Singh
Kalam was feeling unrest but after a little rest he felt fine and ready to deliver a lecture but suddenly he collapsed and died due to cardiac arrest.
He was taken to the nearby Bethany Hospital but he was declare dead. His body was was taken to Delhi where his body wrapped in the Indian Flag and thousands of people pay homage. On 29 July in the morning his body was taken to Madurai  and then to Rameswaram by plane.
On 30 July 2002 APJ Abdul Kalam finally laid to rest in his hometown Rameswaram where thousands of people attended his funeral among them our many national level personalities.
India 2020
APJ Abdul Kalam has written many books among them is India 2020 which he was written in the year 1998 with Y.S. Rajan. This book was written by him before he becomes the President of the country.
In this book he gives his ideas about the future India in the year 2020. This books through lights on the strength and weakness of India and suggest some points to overcome these drawbacks also.
In this book he shares some very important point by following those India will be among the world's top four economic powers by the year 2020.
In this book he strongly talk about the development scenario and make India a develop nation. In this he also compare various data and also give suggestions how a country will make an improvement.
He further said in the book that science and technology is very important. He also said in the book that it is a dream of every citizen of India to see a country developed which is really a heart touching.
apart from India 2020 he has also written very valuable book like Wings of Fire, India 2020, Ignited Minds, Indomitable Spirit, Transcendence: My Spiritual Experiences with Pramukh Swamiji
APJ Abdul Kalam Religious view
APJ Abdul Kalam was strongly believe in religion and he also written a book, Transcendence: My Spiritual Experiences with Pramukh Swamiji. Religion is very important to him he pay his five times namaz daily and even do his fasting during Ramzan.
From Missile man to People President
APJ Abdul Kalam was aerospace scientist and science administrator, he also worked in ISRO and DRDO before becoming a President.
APJ Abdul Kalam was considered as the father of the missile programs and also commonly known as the missile man. He himself said that he was made in India and not trained in abroad. the World Students' Day  s celebrated on his birthday.