MS Dhoni Wife and how Dhoni came to meet his wife, who is Dhoni's wife, and what is she doing all the relented information regarding the couple is discussed in the article. You have known about Dhoni's performance as a cricketer but must not know about his love story his love story is worth listening to. keep reading the article.
How MS Dhoni Meet His Wife?
MS Dhoni wife's name is Sakshi Dhoni. Sakshi Dhoni was a hotel management trainee. Once Dhoni went to the hotel where she is a trainee in the Kolkata hotel Taj. Dhoni met Sakshi there during his stay at the Taj Hotel in Kolkata, he was there for India's home series.
Dhoni was a legend and he has given us some memorable victories and contributed to the Indian Cricket team. Sakshi and Dhoni met by the luck. Once Sakshi Dhoni revealed that she met Dhoni through a conman friend and at that time he was a very regular guy and it was her last day of internship.
They met in 2007 through Dhoni's manager who happened to be a friend of Sakshi, Yudhajit Dutta. Sakshi and Dhoni attended the same school in Ranchi but they never met as Dhoni was a senior and Sakshi is a junior. When they met it was the last day of Sakshi's internship in the hotel and her friend Yudhajit Dutta ask her to come and that was how they met.
After meeting in 2007 they text each other and fall in love, their affair was kept secret and Dhoni waited for Sakshi to complete her studies. Finally, they kied the knot in 2010. Their marriage ceremony was attended by close family and friends.
Who Is MS Dhoni  Wife?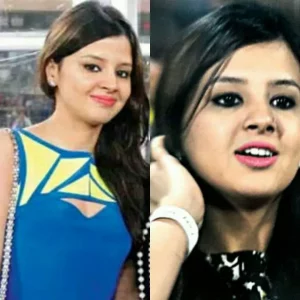 Image source – https://in.pinterest.com/
Sakshi Singh Rawat married MS Dhoni and become Sakshi Dhoni, wife of former Indian cricket player and captain of the Indian cricket team. Sakshi was born on 19 November 1988 in Lekhapani town in Tinsukia district Assam.
She went to the Welham Girls' School in Dehradun and later attended the Jawahar Vidya Mandir In Ranchi and complete her schooling.  She completed her degree in Hotel Management from Aurangabad.
Before meeting MS Dhoni she interned at Taj Bengal, a hotel in Kolkata as she completed her graduation in Hotel management. She met Dhoni in this hotel only.
Sakshi Name In Controversy
Sakshi's name is being tangled in a match-fixing scandal. When Sakshi saw sitting beside Vinoo Dara Singh a photo circulate on the internet saying they involve in the match-fixing scandal. In the investigation, Sakshif found clear and no proof of her involvement was found and her name was clear. Vindoo Dara Singh's name is being involved in the investment in match-fixing that is might be the reason Sakshi's name is also getting involved in Match Fixing.
Sakshi's Husband MS Dhoni
Dhoni was born on 7 July 1981 in Ranchi, Bihar the place known as Jharkhand. He was born in a Hindu Rajput family, his father's name is Paan Singh, and his mother's name is Deviki Devi.
A wicketkeeper and right-hand batsman need no introduction, he is considered the white ball cricket captain born on 7 July 1981 and a former cricketer. He made his debut against Bangladesh in 2004 on 23 December. He played his first cricket Test against Sri Lanka.
He was one of the very good captains of the Indian team. In 2014 Dhoni announced his retirement from Test cricket but he went to the captaincy of  T20s and ODI in 2017 and in 2020 he announced his retirement from cricket. Dhoni's net worth is estimated at $113 million. MS Dhoni Net worth in rupees is Rs 846 Crores. He retired from International cricket on 15 August 2020. Under his captaincy, India won many matches and created history. He is also called Mahi or Mahendra Singh Dhoni by his fans, and he was also treated as God by his fans.