Lal Bahadur Shastri our respected second Prime Minister of India was born on 2 October 1904 at Mugalsarai near Varanasi Uttar Pradesh and died on 11 January 1966.  He was the second Prime Minister of India. We celebrated his death anniversary recently on 11 January 2022. Keep reading the article for more information of our second respected Prime Minster Shri Lal Bahadur Shastri.
Early Life And Childhood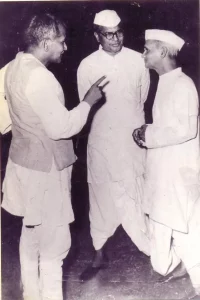 Lal Bahadur Shatsri was born on 2 October 1904 in Small railway town near Varanasi, Mugalsari in Uttar Pradesh. He was called Nanhe mean little one at home. His father died when he was only one and half year old and his mother with him and his other three children to her father house and settle there. It was small town and that his schooling was not remarkable but being living in poverty his childhood is very happy. later he was sent in Varanasi where his uncle lives so that he complete his High School.
Interest In Politics Of Lal Bahadur Shastri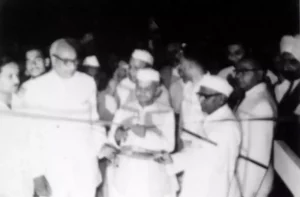 When he grew up he start taking interest in freedom struggle. He was so much impressed by the thought of Mahatma Gandhi that he start following his teaching. He taking interest in politics and at that time he was only eleven.
He was called to join the Non Cooperation movement when he was sixteen and he decided to quit studies and join the movement. His family did not like his decision especially his mother did not want him to leave his studies but he made his mind to do so. Everyone in his family knows that he made his decision it will never change he is firm in his decision.
Lal Bahadur Shastri Wife
Lal Bahadur Shastri wife name Lalita Devi, She is from Mirzapur. She belongs from Mirazapur near his home town. Their wedding was a traditional wedding, a spinning wheel and yards of handspun was dowry.
His wife always support her husband in all way she always stand beside him in all his difficulties, even she pay his loan after his death. She also cut the grow crop which he sown. She in all her way stand by his husband.
Lal Bahadur Shastri Death
Lal Bahadur shastri died on 1.20 am on 11 January 1966 in Tashkent, USSR. Shastri went to USSR where the Tashkent Agreement had been signed. They spend six days there and after 6 days they are returning to India with a little time to stay in Kabul. When Lal Bahadur Shastri start coughing badly and his face turn red like something choking inside. They all rushed and ask for doctor.
It seems that Shastri had eaten something it is a case of food poisoning. At 1:32 am Secretary of Lal Bahadur Shastri call to Delhi press bureau and declared him dead of heart attack.
At 11 am Shastri body arrived in New Delhi at Palm International Airport. It was very cold then but there was a crowd waiting for him for the last darshan of their second Prime Minister.
People over their shout the slogan Jai Jawan Jai Kisan and Bharat ka lal amar rahe. When his body putting into the truck it was swollen and it also admire that his face and body turn blue and blood pouring out from the cuts on neck and stomach.
Lal Bahadur Shastri Jayanti
On the occasion of Lal Bahadur Shastri Jayanti RBI issued a coin of 100 with Shastri portrait. Coin is non circulating but you can order it online. It was a tribute to him. In all his life he was a follower of Mahatma Gandhi. He was the one who popularize the slogan Jai Jawan Jai Kisan and led success of the Indo Pakistan war in 1965. He took to the office of Prime Minister with the sudden dismiss o Jawahar Lala Nehru.