Johnny Bravo is a very popular American cartoon character which aired on Cartoon Network on 14 July 1997 till 27 August 2004. The cartoon character is said to based on Elvis Presley.
Johnny Bravo is a muscular young man who always attempt to impress a girl and fails always and create a bizarre. He wear sunglasses and try to look cool.  He always mess up and he has unused brain with a very big and kind heart all these qualities of Bravo made you fall in love with him.
Read This Also – Top Most Popular 8 Animedao In World
Anyone who has ever seen the series of Johnny Bravo know that the way he talks is like Elvis Presley. It is also said that he also resembles James Dean. It was said that he looks like James Dean and talk like Elvis Presley.
Read This Also – Timon and Pumbaa : Famous Cartoon Characters of 90s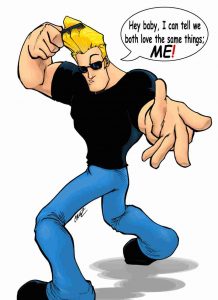 Johnny is in the list of top 10 cartoons characters that are popular among children as well as adults. Everyone has its own opinion about the cartoons character they like. Johnny Bravo has become big hit on the Cartoon Network and even in India there are many fans of the Bravo.
Read This Also – My Hero Academia : Popular Japaneses Superhero Animation Series
The character of Johnny was full of life and that come from the voice, the voice of Johnny Bravo is Jeff Bennett. Jeff Bennett was an American voice actor and singer. In the series of Bravo you can see many celebrity which include Adam West, Shaquille O'Neal, Seth Green.
Read This Also – Popular Anime Series Tokyo Revengers Review
Johnny Bravo Movie
In the year 2002 the makers Warner Bros plan to make the feature film based on the character of the Johnny which named as "Johnny the Rock Bravo" , Yes Dwayne will be playing Johnny Bravo,but don't know why the concept of the feature film has been drop.
Read This Also – Best Top 10 Anime Betrayals
But the producers said once that they will make it with Tatum.
Appearance of Johnny Bravo
Johnny Bravo is a muscular man with unused brain.He always wear black t-shirt and blue pant with black boots. He has yellow color hair and it always gelled up, he wear sunglasses to look cool dude. Johnny ha small eyes that may be the reason he wear sunglasses. Extra large biceps made him the most cutest cartoon character.
Read This – Some Best Anime Movies Of All Times
Funny Johnny
Johnny Bravo is always in himself looking into the mirror and try to showoff in front of women.Always thinks that all women are crazy about him and want him. All these funny features makes johnny adorable and lovable too.
Read This Also – Cartooncrazy : Watch Cartoon Crazy Anime Online
It seems that Johnny lost all his intelligence after he built his big muscle, It is said that Johnny was very intelligent but he suddenly lost everything and turned him into a buff and only interested in the girls which make him a stupid fellow but he has  a big heart.
Read This – 9anime Popular Website To Watch Anime Online
Criticize
Johnny Bravo was criticize for being rude and playing adult comedy. Some people found it annoying.The show has been criticize for being  offensive, sexist and misogynistic. But you cannot ignore Johnny see there are two ways of looking into the point. One is that you can say that he is annoying and it is not good to watch but the other view is that you can learn from him that being like Johnny you cannot reach nowhere.
Read This Also – Famous GOGO Anime Website
There was one funny episode of Johnny Bravo titled "Witch-Av Women", in the episode Johnny transformed into a women named Jenny and now Johnny has  to worked like a women, That was funny episode Johnny realized that being a women is tough when he was commented on being hot.Must watch episode. So from this one episode you can say that this is good lesson to learn from Johnny Bravo.
The creator of Johnny Brave Van Partible once written in his blog that he received letters from all over the world from children expressing their love for Johnny Bravo and he also received many cute drawing of Johnny.