Timon and Pumbaa are popular animated characters of American television series that were actually meerkat and warthog characters based on The Lion King and its franchise movies.
These duos are introduced by Disney in 1994.
This is an animated American television serial which is produced by Walt Disney, The series started on television in 1995 and ran till September 1999.
The show has three seasons the first season ran on The Disney Afternoon and CBS which runs together in the United States and in Canada on BBS.
Season thirds started on Toon Disney on 1 January 1999.
Read This Also – Cartooncrazy: Watch Cartoon Crazy Anime Online
Voice Of Timon and Pumbaa
The voice of Timon was by Nathan Lane in early episodes then after that by Kevin Schon and Quinton Flynn. It was Ernie Sabella's voice behind Timon. They are the main protagonist of the show.
Read This Also – Johnny Bravo: A famous cartoon character in the world of 90s
Some other famous character in the show is Simba who was voiced by Cam Clarke. Simba another character in the series was the king of the Pride Lands and also a very good friend of theirs.
Zazu was voiced by Michael Gough who is an arrogant Thornhill and servant of Simba.
Read This Also – My Hero Academia: Popular Japanese Superhero Animation Series
Shenzi, Banzai, and Ed are antagonists in the show they also have their own program named The Laughing Hyenas.
These three characters always mess up with these. They are voiced by Tress MacNeille, Rob Paulsen, and Jim Cummings.
In the show, there was also a very wise baboon named Rafiki who also gave advice.
This character also has its own program named Rafiki Fables. Rafiki was voiced by Guillaume.
Read This Also – Best Top 10 Anime Betrayals
Zazu's assistant was a mole whose name is Gopher and this character was also voiced by Jim Cummings.
Pumbaa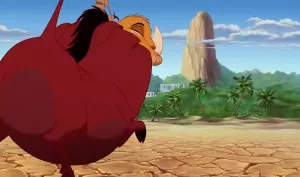 This character is a really funny character his name is taken somewhere from the East African language Swahili. Its meaning is to be foolish, careless, stupid, silly doesn't understand anything.
Read This Also – Popular Anime Series Tokyo Revengers Review
Timon

Timon has no meaning in the African language Swahili, but it seems to be a historical Greek name meaning respect. Maybe this word is derived from the Shakespeare tragedy Timon of Athens. A very popular Greek philosopher whose name is Timon and was the founder of the school of skepticism. It is not clearly mentioned from where the word is taken.
Read This – Some Best Anime Movies Of All Times
The Lion King
The story is that Mufasa who is Simba's father and the King of the Pride Land was killed by his uncle and manipulated Simba into that he is responsible for his father's death.
Simba has grown up in the company with Timon and Pumbaa and were very good friends. The story is all about how Simba takes his place back and takes revenge for his father's death.
The Lion King II: Simba's Pride
 The Lion King II: Simba's Pride is the story of how Simba's daughter Kiara, Fell in love with his enemy and uncle's successor Kovu. Basically, Simba's daughter gets annoyed by the overprotective behavior of her father.  The movie is an animated romantic film. It is a sequel to The Lion King released in 1994. The movie was released in 1998 influenced by the Shakespeare Romeo and Juliet.
The Lion King 1½
Also known as The Lion King 3: Hakuna Matata in some areas. This film's main leads were Timon and Pumbaa an American animated film produced by the Australian branch of DisneyToon Studios.
The Lion King
In the year 2019 The Lion King was released again the movie failed to fill the expectation of the fans but the graphic and animation were superb. The film was produced and directed by Jon Favreau, written by Jeff Nathanson,
Information source