Jemimah Rodrigues is an Indian cricketer.Born on 5 September 200, she is young energetic , She follow Christianity and she love her religion. She is all rounder player she loves to play all the game, you will surprise to know that she was under- 17  Maharashtra Hockey team. She was also awarded with the Jagmohan Dalmiya Awards who was presented to her by MS Dhoni. With her dedication in cricket she has become the best domestic cricketer  by BCCI.
Early Life
Jemimah Rodrigues was 2000 born with every year you know what her age is it is 2021 so, she is 21 years old, She grew up watching and playing cricket with siblings. Talking about her siblings she has 2 brothers with whom she play cricket most of the time. She attended St Joseph Convent High School in Mumbai and graduated from Rizvi college of Arts, Science and commerce.
Her father is a  coach in her school and teach cricket. later they moved to Bandra so that they can able to provide advanced sports facilities to their children. Her family supported her and also her brothers to make a career in sports. Before she started playing cricket, she was a part of Maharashtra Hockey team under 17 and under 19.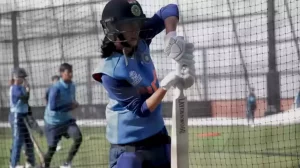 Career Of Jemimah Rodrigues
At the very early age of 12, she made her debut in cricket in 2012-13 cricket under 19 team. Jemimah Rodrigues got selected in ODI series against South Africa. She also made her Twenty20 International cricket debut in February and played a game against South Africa. Later in that year only she was selected in Indian Women's cricket team in West indies  for world Twenty20 tournament.
She was named as the best player of the team as her score leads her team to win by the end of the tournament. She played for Yorkshire Diamonds in the Kia super league. She was selected for twenty20 world cup for Australia in 2019. Later in 2021 she got chance for India's Test squad for one-off match opposite England cricket team.
Debut International
She made her international laying against Australia in One Day International and in T20I opposite South Africa.
Rodrigues comes under limelight with her notable performance when she score double century in under 19 match and this double hundred prove to be the turning point in her career. With double hundred score she becomes youngest India to score this run.Unbeaten score of 202 out of 163 balls great.
Career Statistics
After Smriti Mandhana  she becomes the only woman who score double century.
She score brilliantly from 163 ball she score 202 runs.
Unbeaten score of  178 out of 142 balls when playing opposite Gujarat team,
In 2018 she was named for the women squad in ODI opposite South Africa.She is the one who score the unbeatable score in tournament Under 19 team.
When Will We Have Women's IPL In India?
It is dream of Indian people to see the women's IPL in India because we have some gems of batting. Jemimah Rodrigues recently said some very important facts why we should have women IPL for its betterment. She said in India cricket have its own future and there is no shortage of future player in cricket. Indirectly she is trying to say that women iPL will encourage more and more women to start talking interest in Cricket play.
Kevin Pietersen Reaction About Jemimah Rodrigues
Rodrigues gains more attention when Kevin Pietersen a former player of England cricket team calls Jemimah Rodrigues his favorite player when she score unbeaten score of 43 balls from 92.
Jemimah Rodrigues in her very early age had gain recognition and fame from her hard work and dedication for playing cricket. She set an example for many women to came forward for cricket and play. As she said their is no shortage of work in career in cricket.