Ian Anderson full name is Ian Scott Anderson born 10 August 1947 is very dedicated and hardworking musician, singer and songwriter.He is the one who introduced the flute in the rock music, He plays guitar, flute, keyboard electric guitar, base guitar and also saxophone. He play music in variety.In the year 1983 he begin his career solo work with album Walk into Light.Later he work on many projects and got good recognition.
Ian Anderson Childhood
He belongs to the Scotland. he was born in Dunfermline, Scotland. His father was James Anderson ,he ran the RSA Boiler company in the place. Anderson was the youngest of all the 3 brothers. In the very early age his family move to Edinburgh. And later in 1959 his family moved to Blackpool in England. He went to the Blackpool Crammer School. In 1964 he attend the Blackpool collage of Arts and learn Fine Arts over there. Anderson got influence from his father collection of rock music and developed a passion for music. At a very young age he started taking interest in music.
Career Of Ian Anderson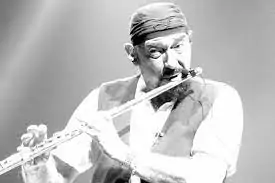 He started his musical journey in 1963 when he formed the band along with his school friends on vocals and harmonica. The band named changed and the band moved to Luton. Soon the group fell apart.
He is most successful singer multi talented and also a businessman know almost all the musical instrument to play.He is best known for his music for flute for 44 years he is a band Jethro Tull front man flutist. Being a part of a band he got success but his solo career is also very much successful under the Jethro Tull he sold around 60 million album all over the world.
Ian Anderson has a talent of playing many musical instrument,He is singer, song writer and also a business man. Have you think how much is his net worth ?… a net worth of $100 million approx.He is a band member for 44 years and always been the front man.of Jethro Tull band. While Ian been the front man for the Jethro Tull band for 44 years. He has also very successful in his solo career. He sold many album and with Jethro Tull alone,he has sold more than 60 million albums all over the world.
Ian Anderson married life
Ian Anderson first married to Jennie Franks who is  a songwriter and had written many lyrics for the Jethro Tull Band. They got married in 1970 but their married did not stay long and divorced in 1974.
In 1976 Anderson married to Shona Learoyd she is second wife of this famus songwriter and musician. it has been 42 years and they live happily and have two children named James and Gael and also they have two grandchildren.
Do you where is he now?
He is living happily with his family on a farm in the southwest of England. His wife Shona Learoyd. He also maintained his recording studio and office. His wife is also an active directer and had directed many albums.