Google classroom is one place for learning as well as teaching.Google classroom is an area where teacher can teach their students online with the use of an amazing tools and enable teachers and students come together. Here learn and teaching comes together. it is easy to manage and classroom provide tools which are really very helpful in teaching.
I personally found Google classroom easy in comparison to other app or site  of the learning and  teaching. Teacher and student can access the classroom for free. For school authority it must register in order to use the various tools. This classroom has the facility of controlling more than one classroom at a go.
One very important question is that parents can check or see their children Google classroom or not.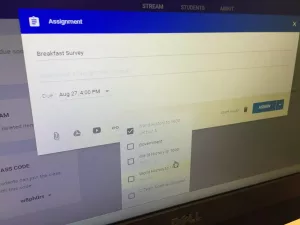 Advantages of using Google Classroom
There are many advantages of using this google classroom it is free service. For schools and non profit organisation any one can login with the personal gmail email.
Firstly it is the best remote school for students as well as teachers.It makes the educator teaching remotely possible and for students to continue their study  inside and outside of school.
Setting up of the classroom is very easy teachers and students login in to their account directly and can also share the code and then join the class.
It saves lots of time teachers can create,check and mark the assignment in one go, educator no need to collect the assignment and check each and every point.
Improve the goodwill of the organisation students will learn new things and can have all the assignment in their assignment page. All the important documents are save in the Google drive automatically.
Disadvantages of Using the Google Classroom
One of the very common dissatisfaction of the user is that it is difficult to manage the google account as google classroom doesn't allow access from multiple domain.
Updates to the app is not automatic whereas editing problem also there.
Google Classroom Mobile App
Mobile application of the classroom has been started in January 2015 for IOS and Android devices. This app allowed the student to click the photo related to assignment and attach it with there assignment,also user can share the files from other app. Mobile app also allow the offline access which is promising feature.
It is very easy to join the classroom or login with your Android devices. Download the mobile app of the classroom and install it. After installation open the app. We will see in the lower right corner of the screen there is + sign and  join class option. Now you need to enter the code that you provided by the instructor and click on the join and you will now in the google classroom.
How to login Google classroom ?
When you open your classroom app. You will see the option classroom. Tap on the classroom and after that tap on the get started and add your google account or email account and click o the next option  set a password and tap next. A welcome message will appear view it and accept the terms and condition and tap on agree.
Paid as well as Free
The app also provide the classroom facility for free for school and also a paid G Suite is also available which has some promising features such as videoconferencing, high security, licence for individual user all that cost up to $4 per user. User need to pay an amount as fee for availing of all these facilities.But free classroom is also very good and it also give user an immense feature to teachers and students both.
Google classroom is very popular and good rating application to use and it also make both teacher as well as student meet their goal.