Danny Dyer full name is Daniel John Dyer born on 24 July 1977 most popularly called as Danny, well known for his role of Moff in Human Traffic and as Billy the Limpet in Mean Machine. Here we gather some information about his career and struggle he faces.
Childhood and Early Life of Him
He was born in 1977 in Custom House area in London. His father Anthony and mother is Christine. He has two sibling Tony and Kayleigh. Raised by his mother as his parent split when he was just nine.He started acting very early when he a teen.
Who Do You Think You Are is a name of the BBC series which is based on the history of his family. It is believe that he a decent of Plantagenet king.
Remarkable Works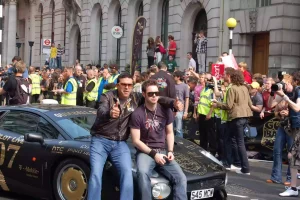 In 2010 on 26 January a documentary that names I believe in UFO:Danny Dyer that shows the journey to many UFO hotspots in UK and US he hope of sighting a UFO it telecast BBC Three. He given his voice in Video game Grand Theft Auto:Vice City in 2002 the character of Kent Paul and also in 2004 The Grand Theft: San Andreas.
In 2007 also appeared in The Twang's  for Two Lovers. In 2016 appear in music video for Nebraska in the Lucy Rose. In 2020 along side with daughter Dani start co hosting Sorted with the Dyer, a podcast.
He recorded new version of Vindaloo along with Will Mellor for charities. One thing happen that he quit EastEnders so that he can appear in Sky series.
Who Is Danny Dyer wife?
Joanne Mas is Danny long term childhood friend and wife. They first met at school at the age of 14 it had been a 20 years of togetherness. Joanne Mas ask her long met friend Danny Dyer to marry him on Valentine Day in 2015 and that they decided to marry in September 2016 at intimate Hampshire ceremony. Danny once said Jo is my best friend and I would be nothing without her. Where as Joanne said I have dreamed about this day and want to make it a perfect.
EastEnders Star Danny Dyer Left The Series After Nine Years
He left EastEnders series to pursue other roles with drama series with Sky for big figure in amount. He who played Mick Carter on the popular soap on BBC after nine years decided to left the series as he has a new deal with the satellite channel as per the report of The Mirror.
A BBC confirm that he would be leaving the show Walford later this year