Developed by the Croatian Studio Croteam and published by Devolver Digital Serious Sam 4 is a 2020 first-person shooter game it is a series of Serious Sam. It is a prequel to Serious Sam 3: BFE.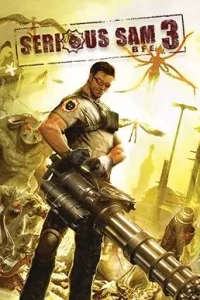 In 2018 the game was announced as Serious Sam 4: Planet Badass and was released in the next year in September 2020 for Microsoft Windows and Stadia, and later it was released for PlayStation 4 and also for Xbox One by 2021 December it was also released for PlayStation 5 and Xbox Series X/S.
Review Of The SS 4
This game is different from all the other shooter games in history. It is an energy that seems Sam and their friends fight with the aliens in the real world. The game has thousands of enemies to fight and shoot your gun, the game is good but not very long you have taken a few weeks to finish it all.
The first encounter is fantastic and nostalgic to play and it is still fantastic to play the game first-person shooter, it is a fast action-based game. Serious Sam 4: Planet Badass has some big levels to clear and amount of enemies is many.
Development Of The Serious Sam 4
It was launched under the name of Serious Sam 4: Planet Badass in 2018 and its one level is not revealed. They were planning to launch this game in 2019. In 2020 again it was again decided to re-launch it without the title of Planet Badass the game was about fighting against invading enemies.
Again it was delayed to 24 September that year but because of the exclusive deal with Stadia PlayStation 4 and Xbox One the game was postponed. Later the game was released for the PlayStation 5 and 7 and Xbox Series in December. You Can buy this game at amazon at the best price.
Chapters in Serious Sam 4
Serious Sam 4 has a total of 15 missions to complete or chapters. So if you start playing the game you will come across these levels and know how much time it is taking to complete the levels. Here is the list of All the chapters name-wise.
Death from Above, Death from below, Four Horsemen of the Apocalypse Starting three chapters are quite easy and players can cross these without any delay. The 4th Level which is Gates of Hell makes you really into the game and your excitement for the game will definitely increase. level 5 is The die is cast, 6 is level Moituri TE Salutant, next is When in Rome, Machina Ex Deus, A breakfast in France, One for the road, Vive la Resistance, In Carcassonne, Anathema Unto God, The Package and last is From Earth with love.
From Earth With Love
The final level is the toughest the main fight is with the boss in the battle arena, and you have to reach there with the help of a parachute. Destroy all 9 purple coils before destroying these don't shoot at the boss. Destroy them by detonating c4 and 4 on the right. A few of them you find on the back, on his arms and also on his legs and on top of his hand, and lastly on top of his head like his horns but it is not horns. Once you be able to destroy all get into the mech and finish him and this mission is finished.
This is a very popular game in the gaming world but the game may not be good for all age types because it contains blood and scenes that are not appropriate for everyone. If you are above the age of 18 then you can watch and play the game but if you are under age then please take permission from your parents or guardian before playing. The game is interesting to play.