Harshaali Malhotra is very popular  child actress appear in Bajrangi Bhaijaan which was released in 2015 and was the debut film of Harshali Malhotra. She was born in 3 June 2008 and at present she is 13 years. If you want to what she is doing now how she looks keep on reading the article.
Harshaali Malhotra Career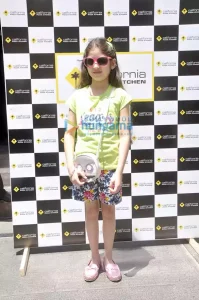 Harshali Malhotra made debut with Kabir Khan's Bajrangi Bhaijaan where she acted with some of the big stars of Bollywood Salman Khan, Kareena Kapoor and Nawazuddin Siddiqui. In the movie she played a little girl from Pakistan who was lost In India, Salman Khan found her and finally he helped her back home with fighting all the hurdles coming in the way. Shahida was a girl name she was called as Munni in the movie as she was dumb so she could not tell her name, she was called Munni by Pavan Kumar Chaturvedi  (Salman Khan).
Harshali selected in Audition where more than 5000 other girls are audition for mute girl and her performance was so touching that she was selected for the role of Munni. Her performance was praised by the critics as well as audience. For her wonderful performance she won Screen Award for Best Child Artist beside being nominated in    many other category. she  also become the youngest person female to be nominated for the category of Filmfare Award for Best Female Debut.
Apart from Bajrangi Bhaijaan Harshali also acted in Nastik opposite Arjun Rampal. These are only two films in which she acted.
Television Career
She acted in serial named Qubool HAi which is one of the very popular serial on television in 2014, In the same year only she also appeared in Laut Aao Trisha. She appeared in commercials and also print ads for various brands. She also appeared in the Pakistani commercials with Shaan Shahid and Ismat Zaidi.
Harshaali Malhotra Won Bharat Ratan Dr Ambedkar Award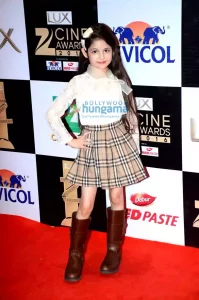 Harshali won The Pretigious Award of our Country. She is among the lucky to receive the Bharat Ratan Dr Ambedkar Award for Bajrangi Bhaijaan. Bajrangi Bhaijaan released in the year 2015 the movie is the turning point in Salman khan career, Harshali chemistry with Salman won hearts and made Harshali won hearts of the audience. Harshali dedicate the award and thank Salman Khan and director Salman Khan all the love and support of them. She thanked them for this.
Facts about Harshali Malhotra You Might be Not Known
Those who liked Harshali as Munni and had appreciated her performance in Bajrangi Bhaijaan there is good news coming there way it is said that Salman Khan and Harshali are reuniting on screen again. They are appearing for TV commercial for which they are shooting.
After the Bajranji Bhaijaan,Harshali is completely focus on her studies. She was appreciated for her role as Munni. Kabir Khan revealed that Harshali mother is very stick about studies.
It is also rumored that Salman is funding Harshali education but later this news was denied by Harshali mother, It is also said Salman had already gave 1.5 crore to Harshali education.
Harshali Malhotra won hearts of million with her performance in Kabir Khan Bajrangi Bhaijaan. She was a star and after seven years of the Bajrangi Bhaijaan Harshali become the  recipient who won the Bharat Ratan Dr Ambedkar Award for the film. She is now 13 years of old and she is away from spotlight according to the report she was busy with her studies because exams are near and she is focusing on it. In future we are looking forward to see Harshali Malhotra as an actress in the Bollywood and we all congratulate her on her winning the prestigious Bharat Ratan.