Ruskin Bond our beloved Indian author of British descent, he is a gem for Indian literature. In this article little we will try to narrate about Ruskin Bond biography. If you have ever read his stories you must be knowing about him.
Who Is Ruskin Bond?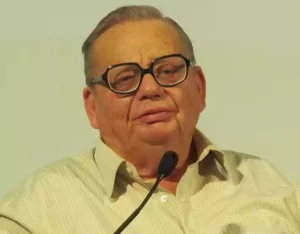 Ruskin Bond is an Indian author, well known for his English short stories and his stories are included in the high school. He has written more than 500 stories and novels. His first novel was The Room on the Roof describe about his experience in rented room over roof. He has written books for children also.
He was born to Edith Clarke and Aubrey Bond  on May 19, 1934 in Kasauli. He was born to British couple when India was under the British rule.He spend his childhood in Shimla, Jamnagar and Dehradun.
Ruskin Bond Biography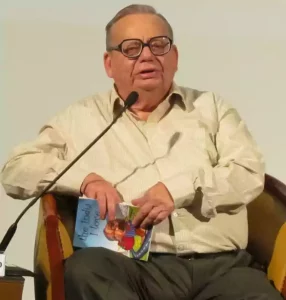 Ruskin Bond was born on May !9, 1934 to British couple, his real name is Owen Ruskin Bond, He is the first child of his parent and his siblings are Ellen Bond and William Bond.
His father worked in Royal Air Force. His parent separated when he was 4 and later his mother married to a Punjabi man. When he was 10 his father sudden death shocked him, his father died out of jaundice.
Career
When his father died he was all alone, he is very close to his father. He start writing short stories after the death of his father and his first novel The Room on the Room was written at 16. He moved to UK for his career but return back to India after 4 years and settled here. Untouchables one of his first novel which he wrote at 16. Penguins Publishers are those who publishes some of his works approach him and ask him to established himself as a author and helped him out.
His articles and essay were published in magazines and newspapers at that time in The Pioneer, The Tribune and he worked as an editor for magazine for 4 years.
The movie The Blue Umbrella  based on his novel directed by Vishal Bhardwai and won the National Award for best children film. In 1978 Junoon a Bollywood movie released which was also adapted from his novel A flight of Piegion.
He made screen appearance for Bollywood movie Saath Khoon Maaf which was also based on his short stories Susanna's Seven Husband. He created character Rusty It was adapted as a TV series on Doordarshan Ek Tha Rusty.
There are several stories which was adapted in a school  English literature some of them are The NIght Train at Deoli, Time Stops.
Awards
In 1992 he received Sahitya Academy Awards for Our Tress Still Grow in Dehra, also awarded with the Padma Shri and Padma Bhushan Award.
Why Ruskin Bond Never Married?
Ruskin Bond turns 87 in 2021, but he never married. He shared his story of why he not married , keep reading Biography of Ruskin Bond.
In an Interview with Khaleej Times he reveal some of his wonderful affairs. He known to be romantic but why he not married, Bond fans want to know the reason. HE revealed that he wanted to marry someone but there are obstacle from girls family side. So he let it go but never married since then.
Now lived with his adopted family in Landour near Mussoorie. With couple Beena and Rakesh he lived and also dedicate a book named Even a Fox Need a Family to them. HE adopted the family.
Ruskin Bond is very popular and respected author of our times. He is a gem to our Indian English Literature, his work was influence by the T.E Lawrence, Charles Dickens, Charlotte Bronte and Rudyard Kipling.
We try to cover the most of the information about Ruskin Bond in this article Ruskin Bond Biography.