Mr. Rahat Indori is well known and very famous name in Indian poets for his Urdu Shayari, poetry and songs. He was born on 01st June 1950 in Indore, Madhya Pradesh, India. He is a very famous Indian Urdu Poet, who is a famous Writer as well. He is very popular for his Urdu Poetry, which you can hear in Kavi Sammelans. He is fourth child of his family, his parents are Mr. Rafat Ullah Qureshi and Mrs. Maqbool Un Nisa Begum.
Complete Bio & Career of Mr. Rahat Indori
Mr. Rahat Indori was a bright student during his education time as he has completed his Higher Secondary education from Nutan School in Indore, and for the Graduation he took admission in Islamia Karimia College, in Indore, there he has finished his graduation. After completing his Graduation, he did his masters in Urdu literature from Barkatullah University, in Bhopal. He has done his post graduation in the year 1975.
He joined Bhoj University of Madhya Pradesh for his PhD in Urdu literature education and accomplished it, in the year 1985. He was an Urdu literature lecturer in Indrakumar College, Indore. There he taught Urdu literature with his perfection, that's why all students considered him as the best lecturer in the college. During his lecturer life, he started himself very busy with Mushairas and gradually he started getting invitations from all over India and later from abroad also.
He became very famous among the people due to his ability toward his passion, and very hard working for his work. Mr. Rahat Indori Saheb took three to four years to establish himself in the hearts of people and he spread the scent of his poetry, which made him a famous poet in the world of Urdu literature.
He was very good in sports along with studies, he loved to play hockey, football and other outdoor games at school and college level. Many time he became captain of sport team. In his college time, he was just 19 years old, when he recited his first poetry. Now he is the person, who has recited his poetry in more than 100 cities of USA, Canada, England, Germany, Pakistan, Middle East, and many more countries.
Personal life of Mr. Rahat Indori
Mr. Rahat Indori ji had 04 siblings including him, he had 02 elder sisters named Ms. Tehzeeb and Ms. Takib, one elder brother Mr. Akeel and one younger brother named Mr. Adil. His family's financial condition was not so good and because of it Rahat Indori ji had to face many difficulties to setup his life. Due to financial issues in his family, he started working in age of less than 10 years as a signboard painter.
He was having a good hand in painting which made him very good in his sign-board work and soon he became best and busiest signboard painter in Indore. There was a time when his customers had to wait for long time to get the boards painted by him. Even today in Indore, you can see many shops which are having painted sign-board from Mr. Indori ji shop.
Very famous Hindi Ghazal of Mr. Rahat Indori
Mr. Rahat Indori has written so many famous Ghazal and poet, here below we have mentioned one of very famous Hindi Ghazal.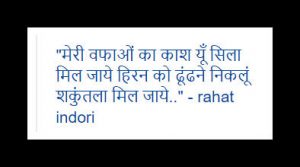 Sooraj, sitaare, chaand mere saath me rahe
Jab tak tumhare haath mere haath me rahe
Saanso ki tarah saath rahe saari zindagi
Tum khwaab se gaye to khyalaat me rahe
Har boond teer banke utarti hai rooh me
Tanha meri tarah koi barsaat me rahe
Har rang har mizaaj me paya hai apko
Mausam tamaam apki khidmat me rahe
Shankho se toot jaye wo patte nahi hai hum
Andhi se koi kah de ke aukaat me rahe