Khatija Rahman is a singer and famous because she belongs to the Oscar winner family AR Rahman. AR Rahman is a music director and composer, one of the finest music composers in India.
She is the eldest daughter of this sensational music maestro. In this article, we tell you more about her so keep reading the article.
Khatija Career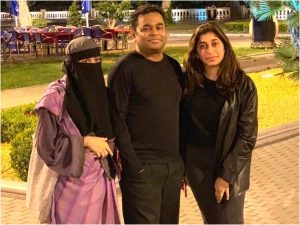 image source – https://timesofindia.indiatimes.com/
Khatija Rahman is the eldest daughter of music maestro Rahman. She started her career very early at the young age of 14 as a singer, her debut song was Pudiya Munidha in the movie Enthiran.
The movie starer Rajnikanth and Aishwarya Rai Bachchan in the lead.  She sang a song with legend S P Balahsubranyam. She worked as a playback singer and had worked for many music directors including her father.
Last year in 2021 she sang Rock A Bye Baby for the movie Mimi, movie starer Kriti Sanon, Song composed by her father. In 2019 in an English band she also performed with her father at U2's concert in Mumbai.
Khatija joined the company called Bhumi in 2016 after completing an internship with various music programs as a trainee, she also manage finance and after that, she joined Y M Movies private Ltd where she worked for 7 months.
As an executive producer, she worked in K M Music and worked in the production of 2D movie where she produces a movie called Farishton. She also worked as a director and trustee in her father's A R Rahman Foundation and she continues the work now and also as a Freelancer.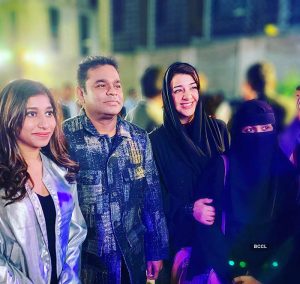 image source – https://photogallery.indiatimes.com/
Khatija Rahman In Controversies With Naqab
Khatija Rahman was dragged into controversy due to her choice of wearing naqab. It was said on various platforms of social media that she was forced to wear a naqab by her father and that he was a double-standard person.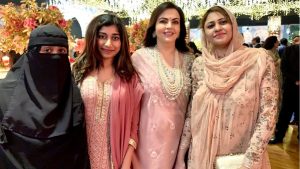 image source – https://www.dnaindia.com/
A R Rahman took the Twitter account to answer such trolling he share a photo of his wife and daughters with Nita Ambani and wrote this is my precious ladies with Nita Ambani and in this photo, his wife Saira and daughter Rahmeena did not wear any veil but Khatija wore a niqab that means it is her choice and it is not forced upon her by her father or anyone.
Khatija Rahman too took the Facebook platform to clear her choice of wearing a naqab. She clarified that it is her choice of wearing it and no one had forced her to that it is her choice and her parents did not interfere in that.
Family Background
Khatija Rahman was born in Chennai to Saira Bano and AR Rahman. AR Rahman is a well-known name in the Indian music world. Kahtija was born in Chennai in 1996.  She is 23 years old.
In this small career, she achieved much and was well known by her father's name. She has one brother AR Ameen and one sister Raheema Rahman.
Her father was a Muslim but was born in a Hindu family. AR Rahman was Hindu but he converted to Muslim at the young age of  23.
Khatija Rahman belongs to a family of well-educated people and renounced music composer and singer, walking on the path of her father Khadija has established herself as a singer and being in controversies and the way she handled all these matters she is said to be brilliant and that is the reason she grows her own fan following on social media.
Her followers loved her and liked her attitude toward wearing a burqa. She set a new record for a successful woman in the burqa and she is proud to wear this.
We all wish her a new chapter in her life with Riyasdeen Shiak Mohammad. The married date is not shared yet we will update you when we have any news about it.