Born in the year 1985 Gerwyn Price is a professional darts player and also a rugby player. He is a World Champion in this game and won the 2021 current PDC World dart  Championship and with this he become the first Welshmen to win the tournament. The winning leads him to become number 1 player of dart.
In 2016 he fall in the list on number 32 on PDC order of Merit and after won the Pro Tour tittle. Later at the UK Open he become a runner up. He won his first won in the Grant Slam of dart tournament  in 2018 and in 2019 again retained his tittle by winning the tournament.
He was  also a good rugby player and he played for union for Welsh Premier Division rugby league with South Wales Scorpions.
Gerwyn Price Rugby Career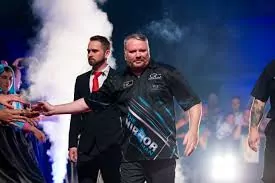 Gerwyn is also a very good rugby player, he played as a hooker for Welsh Premier Division sides Neath and cross keys and also rugby league. He won 2011 -2012 WRU challenge Club and score try in the final.by 2014 he stopped playing Rugby and stopped his Rugby career so that he can concentrate more on darts practice.
Gerwyn Price Darts Career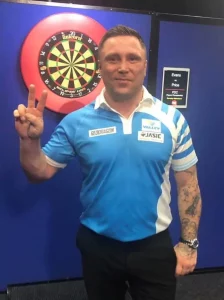 He started playing this sport for Markham Welfare where Welsh professional who know him advice him to join the school to qualify the Professional Corporation that is PDC in 2014 January. He was successful in the second attempt. Contentiously won six matches over concluding with 5-3 victory Rowby John Rodriguez and earn card for two years.
He also qualified for European Dart Trophy  also make his close to qualified the 2014 World Grand Prix but did not make it.
Gerwyn Price Once Happened 
In the year 2010 in a pub at Bargoed Price was punched out from a pub and had injured forehead where he need 42 stitches and 5 stitches in his chin also he suffered a Brain haemorrhage and also injury near his eyebrows. The person who punched him was jailed for 12 months. He was also receive a punishment for hitting the body.
Winning The Titles
It is been 3 years that price won the Grand Slam of Dart and become the world's number 1 player of darts. In 2018 he won the Grand Slam of Dart then again in 2019 won the Grand Slam of Dart., in 2020  World Grand Prix, World Series of Dart Finals, World Cup of Dart with Wales, In 2021, World Championship, Grand Slam of Dart.
How Much Price Money Does Gerwyn Price Won?
He received Price money when he won the Grand Slam of Darts is £125,000 this price money he won for third Grand Slam of Dart.