Dr Rajendra Prasad ,1st President of India born on 3 December 1884 in Bihar which is early called as Bengal Presidency. Rajendra Prasad was the very first President of republic and he hold office his from longest as compare to any other President form 1950 to 1962.He died at the age of 78 out of heart attack in Patna, Bihar, India.
By profession he was a lawyer and an activist .He joined the Indian National congress because he was follower and supporter of Mahatma Gandhi and also became the president of the Indian National Congress and dedicated his life for Independence for India.
Rajendra Prasad completed his graduation from the Calcutta Law Collage and start practicing in Calcutta High Court. In the year 1916 he was transfer to Patna High Court and there he founded the Bihar Law Weekly. Gandhi admire him and appointed him to become helping hand of the Mahatma Gandhi.
Being a leader and supporter of Mahatma Gandhi Dr Rajendra Prasad was imprisoned during the Salt Satyagraha Andolan by the British officials twice once in 1931 and secondly during Quit India Movement in 1942.
He become the chairman of the Constitutional Council of India in 1947. Dr Rajendra Prasad was elected as the first chairperson of Parliament in the year 1950 when India attains ot freedom and become republic. Following the 1951 general election, he was elected President by the India's Electoral Commission and the first member of the bill.
As president, Dr Rajendra Prasad has a tradition of bipartisanship and independence for the incumbent and moves away from party politics. He want to spread education among young generation and he promoted education in India.and advise for many educational matter to the Nehru Government.
Click here to know about Non Cooperation Movement
In 1957, Now only once twice Dr Rajendra Prasad was re-elected as President and became the only president elected twice. He was the longest President  about 12 years. At the end of his tenure, he left Congress and developed new guidelines for legislators who still followed it.
Dr Rajendra Prasad was very important person and play a vital roll in the establishment of the Bihari Student Conference in 1906.He was the one who also become the one to frame our constitution of India. He died tragically on February 28, 1963 from a heart attack.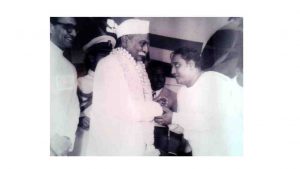 Dr Rajendra Prasad early life
Rajendra Prasad is a landowner and wealthy Indian Kayastha, born in Zeradai in the Sivan district of Bihar. His father, Mahadev Sahay Srivastava, was an expert in Sanskrit and Persian languages. Her mother, Kamleshwari Devi, a devout woman, tells the story of  Ramayana and Mahabharata to her children. Being youngest of all the family members he was loved most in the family. His sisters took his care because he was very attached to his mother and she died at very young age.
Student life of Dr Rajendra Prasad
When Dr Rajendra Prasad was five years old, his parents took him into the care of Maulawi, an Islamic scholar who studied Persian, Hindi, and arithmetic.  He was sent to the local Chapra school after his primary education.  When he was  12 years , he got married to Rajavanshi Devi. Then he studied with T.K. and his brother Mahendra Prasad.
Gosh Academy 2 years in Patna.He received Rs 30 scholarship when he passed his entrance exam. He then get admission in the Presidential High School of Calcutta in 1902 as a science student. In March 1904 he passed the F.A and then he graduated and in March 1905 complete graduation with  first division.
He decided to devote himself to art and graduated from the University of Calcutta in December 1907 with a master's degree in economics. There he and his brother lived at the Hindu Eden Hostel. A devoted student and community leader, he is a full member of the Dawn Society.
Due to his responsibility for his family and education, he refused to join Indian civil society because his mother died at that time. Her younger sister was widowed at the early age of nineteen and was forced to return to  home.
HIS CAREER AS A TEACHER
Dr Rajendra Prasad has worked as a teacher in many educational institutions. After completing his MA in Economics, he became Professor and Director of English at Langat Singh College in Bihar Muzafarpur. Thereafter, he left college to study law and entered Ripon College (now Surendranath College of Law) in Calcutta.
After studying law in Calcutta, he worked as a professor of economics at the City College of Calcutta in 1909. In 1915, Prasad passed the exam for a Master of Laws at the University of Calcutta Law School, passed it and received a gold medal. He got his doctorate from the University of Allahabad in 1937 and become Dr Rajendra Prasad from just Rajendra Prasad.
AS A LAWYER
In 1916 he joined the Supreme Court of Bihar later Odisha. In 1917 he was appointed as a member of the Senate of the University of Patna and one of the first union members. He also works as a lawyer in Bagalpur, the famous silk city of Bihar.